Apple iPhone 5s users are consuming data like there's no tomorrow
27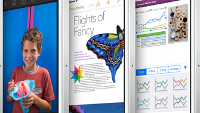 A study done by JDSU reveals that users of the
Apple iPhone 5s
are consuming huge amounts of data. The study looks at data used last year in developed and developing markets, and computes how much data each phone used in comparison with a mid-range benchmark model. That model is the
Apple iPhone 3G
, and the amount of data it consumed last year is the benchmark used to measure the data demanded by all other handsets.
With that in mind, the Apple iPhone 5s was the workhorse of data fiends in 2013. Compared to the iPhone 3G, the latest flagship handset from Apple downloaded nearly 7 times the amount of data per user last year in Developed Markets. In Developing Markets, iPhone 5s users used more than 20 times the amount of data as the benchmark phone. According to the study, iPhone 5s users are quite a hungry lot when it comes to downloading data, which resulted in "
unprecedented increases in uplink and downlink data demands
".
The top Android model for receiving downloads in developed markets was the
HTC Sensation
, which downloaded 641% times the data per user as the benchmark model. In developing markets, the top Android unit was the
Samsung Galaxy S4
(1327%). When it comes to tablets, the
fourth generation Apple iPad
(651%) led the way in developed markets, while its predecessor was the top tablet in developing regions with 15 times the downloads per user as the benchmark device.
"For the past three years we've seen explosive growth in mobile data usage, causing operators to have to wrestle with the challenges their success is creating...each new generation of iPhone has resulted in increases in data consumption of between 20-40 percent - even today when data use is common. Though interestingly, users of the more economically-priced iPhone 5c consume data in the range between that of the iPhone 4s and 5 users."
-Dr. Michael Flanagan, study author
Six of the top ten data consumers on the list were made by Apple, two by Samsung, one each by HTC and Sony. Check out the results in the slideshow below.
source:
JDSU
via
TechCrunch