Apple iPad mini 3 vs Apple iPad mini 2 vs Apple iPad mini: size and specs comparison
7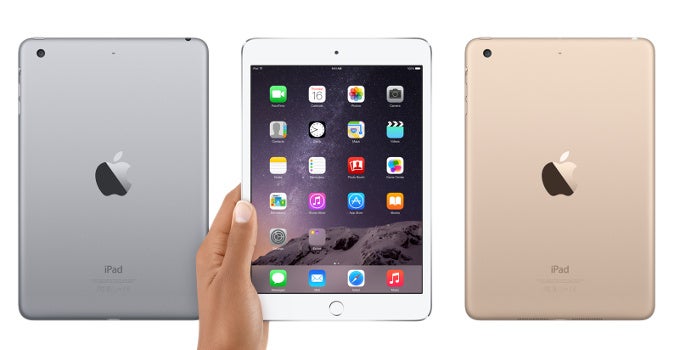 Apart from treating us to a refreshed iPad, Apple also announced the
iPad mini 3
with Retina today. Powered by the same old A7 chipset that can be found inside the
iPad mini 2
, there are just a few differences between the new and the old generations of Apple's munchkin tablets. Apart from a slightly improved camera features and Touch ID on board, it's hard to say that the iPad mini 3 is a worthy upgrade over the iPad mini 2.
Are these a a good enough reason for an upgrade? This is an especially relevant question for those who don't care about the rest of the goodies that are on board, especially Apple Pay. We asked ourselves the same question, so we decided to roll our sleeves and make a brief specs comparison between the three generations of small iPad tablets.
Check the comparison below and form your own opinion whether you should upgrade or not.
Oleophobic coating, Ambient light sensor
Oleophobic coating, Ambient light sensor
Oleophobic coating, Ambient light sensor
Dual-core, 1000 MHz, ARM Cortex-A9
Dual-core, 1300 MHz, Cyclone, 64-bit
Dual-core, 1300 MHz, Cyclone, 64-bit
PowerVR SGX543MP2
PowerVR G6430
PowerVR G6430
iOS (9.x, 8.x, 7.x, 6.1, 6.x)
iOS (12.x, 11.x, 10.x, 9.x, 8.x, 7.x)
iOS (12.x, 11.x, 10.x, 9.x, 8.x)
Single camera
Single camera
Single camera
5 MP (Autofocus, BSI sensor)
5 MP (Autofocus, BSI sensor)
5 MP (Autofocus, BSI sensor)
Aperture size: F2.4; Focal length: 33 mm
Aperture size: F2.4; Focal length: 33 mm
Aperture size: F2.4; Focal length: 32 mm
1920x1080 (Full HD) (30 fps)
1920x1080 (Full HD) (30 fps)
1920x1080 (Full HD) (30 fps)
Time-lapse video, EIS, Video calling
Time-lapse video, EIS, Video calling
Time-lapse video, EIS, Video calling
1.2 MP
1.2 MP
1.2 MP
1280x720 (HD)
1280x720 (HD)
1280x720 (HD) (30 fps)
7.87 x 5.30 x 0.28 inches (200 x 134.7 x 7.2 mm)
7.87 x 5.30 x 0.30 inches (200 x 134.7 x 7.5 mm)
7.87 x 5.30 x 0.30 inches (200 x 134.7 x 7.5 mm)
11.01 oz (312.0 g)
the

average

is 20 oz (571 g)
12.03 oz (341.0 g)
the

average

is 20 oz (571 g)
12.03 oz (341.0 g)
the

average

is 20 oz (571 g)
Back: Aluminum
Back: Aluminum
Back: Aluminum
Recommended Stories