Apple employees rate Tim Cook as most beloved executive across all industries
34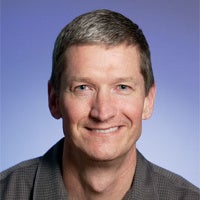 Tim Cook might never grow to be the transformational, historical figure that Steve Jobs was, but this doesn't stop Apple's chief executive officer to be loved by employees, probably even more than Jobs.
After his first 10 months as CEO, Cook is already the
most beloved executive by Cupertino employees
not only in tech, but across all industries.
Anonymous Apple employee rankings showed that Cook's approval rating is at the sky-high 97%, which is actually 2% better than Steve Jobs' rating in his final year. Cumulatively, though, Jobs had the same rating when he quit his role as Apple CEO.
Under Cook, Apple shares surged in value
and the company cemented its place as the world's most valuable. It had another record quarter with 37 million iPhone sold most recently.
The survey places Tim Cook known for his disciplined management of Apple inventory above all other tech giant leaders including Google's Larry Page and Qualcomm's Paul Jacobs.
What do you think of Cook's achievements in the ten-month period that's passed, do you share Cupertino employees' evaluation?