Apple doubles the maximum size of an App Store app to 4GB
45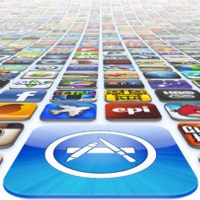 From the beginning days of the Apple App Store back in 2008, apps have been limited to 2GB in size, or less. But that has changed starting today. Apple is now allowing developers to submit apps as large as 4GB, which is a doubling of the previous maximum app size. The reason for the expansion is that new games for iOS are starting to come with larger file sizes.
Apple still has a 100MB limit on apps delivered via a cellular connection. On Wi-Fi, the limit matches the new 4GB maximum. Allowing those using a Wi-Fi conection to install larger sized apps makes sense, and keeps down the cost of installing apps on an iOS flavored device. Apple iPhone and iPad users will also have to keep an eye out on their native storage limits, especially those sporting 16GB models.
Expanding the maximum size of an app submission means that developers can include "
more media in your submission and provide a more complete, rich user experience upon installation
," according to Apple.
"The size limit of an app package submitted through iTunes Connect has increased from 2 GB to 4 GB, so you can include more media in your submission and provide a more complete, rich user experience upon installation. Please keep in mind that this change does not affect the cellular network delivery size limit of 100 MB."-Apple
source:
Apple
via
CultofMac