Apple connected analyst Kuo forecasts what to expect from Apple on September 9th
20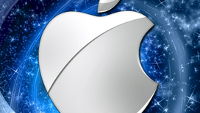 With less than a week to go until Apple takes the wraps off the next iteration of its smartphone, it is a good time to check in on KGI Securities analyst Ming-Chi Kuo. The analyst has an uncanny ability to know exactly what Apple is up to. Kuo states that next week will see Apple reveal many of the devices that you've been hearing about for many, many
moons
months.
Kuo says that on September 9th, Apple will unveil both the 4.7 inch
Apple iPhone 6
and the rumored 5.5 inch Apple iPhone phablet. The analyst says that the tech titan will offer a 128GB version for both models. Apple could simply add the fourth level of storage to its smartphone offerings, decide to make the low end model 32GB, or skip the 32GB model entirely to go with a 16GB, 64GB, 128GB lineup.
According to Kuo, failed drop tests mean that sapphire glass will not be employed on any iPhone model. He also expects Apple to add a barometer to the handset to help with indoor navigation and health-related apps. In addition, the power button could be programmable for specific applications. The button itself has moved to the side from the top of the phone.
Instead of a separate event next month, Kuo expects Apple to unveil the Apple iPad Air 2 next week. He believes that there won't be any changes made to the 7.9 inch
Apple iPad mini with Retina display
, except to add Touch ID, a thinner casing and an increase to 2GB of RAM to support multitasking. And to stir up the interest of developers, the analyst says that Apple will unveil the iWatch next week, even though the wearable won't ship until 2015. The timepiece, as we told you earlier today,
will come in two sizes
and feature a number of sensors on its back.
Even though Apple might be unveiling all these devices next week, the analyst expects some delays in getting these products to market. A Foxconn labor shortage could result in a one to two month delay for the 4.7 inch iPhone 6. The rumored phablet could be also be delayed as long as two months due to issues with assembling the phone, and shortages of some components. The iPad Air 2 has yet to start mass production, according to the KGI number cruncher, due to problems obtaining the anti-reflective coating for the screen. Lastly, Kuo says the iWatch will go into mass-production in the first quarter of 2015.
If all this is hard to remember, even for the most fervent of turtleneck, jeans and sneaker wearing Apple fans out there, you can refer to KGI's chart below, produced for their Apple trading clients.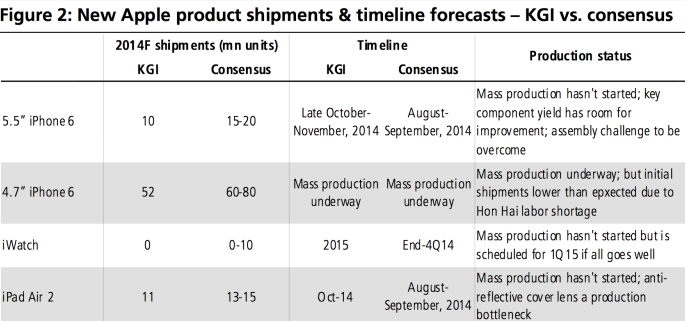 KGI's predictions for Apple's upcoming devices
source:
9to5Mac
via
TechCrunch