Apple iWatch said to come in two sizes: 1.3" and 1.5", include gold option
11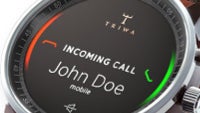 The most anticipated smartwatch this year, the Apple iWatch is once again said to get officially unveiled at Apple's event next week, on September 9th at the Flint Center in Cupertino. KGI Securities analyst Ming-Chi Kuo revealed that the iWatch will indeed come in two sizes targeted to the different genders: a 1.5" one and a 1.3" model. In comparison, we could say that the Pebble smartwatch features a 1.26" display, so the iWatch could be similar in size in its smaller model, but there would also be a larger timepiece available. All of that information comes from sources in the supply chain that Kuo is well connected to, but is far from being official.
Other revelations about the iWatch is that it's shaping up to be a fairly powerful device for its class with 512MB of RAM and 8 gigs of internal storage. Having 8GB of storage is a very heavy indication for the fact that the iWatch will store data locally, and might be more independent from the iPhone than many expect.
So far, there is no clarity on the display form (round or rectangular), nor on the materials, but Kuo takes a guess that Apple will go with a rectangular watchface and aluminum for the material, something that it's so well known for using. The analyst also mentions there will be a gold version of the fancy gadget.
The fact that wearable devices don't need much memory explains our prediction of an 8GB version with 512MB built-in memory. We expect casing material to be of 2-4 different types, with aluminum the most likely as it has been widely used in Apple products. A gold casing option is also possible, to add a luxury image to the product. We believe iWatch will be rectangular in front/ panel side shape. And lastly, like some other wearable devices, we expect there to be a number of holes on the back side of the device that can be used to monitor users' vital health signs such as heart rate, Kuo writes in a note to clients.
Speaking of actual functionality, expectations are that the iWatch will be packed with sensors that will peek from its rear side and take vitals like heart rate from your wrist.
Finally, Kuo does reiterate what seems fairly obvious now: the iWatch will only be unveiled now, but it will arrive on store shelves only in 2015.