Apple updates App Store prices due to VAT changes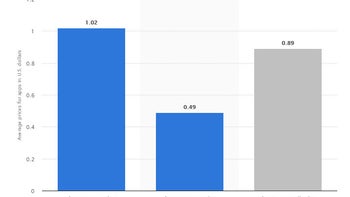 Current average app and in-app purchases prices. source: statista
New year, new VAT (Value Added Tax), at least in couple of countries. Reacting to that, Apple is about update its App Store prices of apps and in-app purchases, starting next week.
The countries where VAT for online goods was introduced (or changed) are as follows:
Armenia: 20%
Belarus: 20%
Saudi Arabia: 5%
Switzerland: changed from 8% to 7.7%
Turkey: 18%
United Arab Emirates: 5%
The tax will be collected and remitted by Apple itself.
Following this, the prices of apps and in-app purchases will increase in:
Turkey
Nigeria
Belarus
Armenia
And will decrease in:
Czech Republic
India (including auto-renewable subscriptions)
This is not the first time Apple readjust app pricing, with the last one being in 2017, when it affected the UK and some parts of Europe.
An e-mail was sent by the Apple team to the app developers, notifying them about the change. This was done so app developers have time to reconsider and prepare their new app and in-app purchases pricing. As stated by the message, devs can currently change the subscription fees for their current subscribers in
iTunesConnect
, and can check the new app prices in the
Pricing and Availability
section in MyApps (feature where developers can manage their apps).
Below you can take a look at the e-mail, as sent by Apple:
When taxes or foreign exchange rates change, we sometimes need to update prices on the App Store.
On January 1, 2018, value added tax (VAT) applicable to sales of your apps and in-app purchases changed in some countries. We will administer the collection of taxes from customers and the remittance of taxes to the appropriate tax authority in Armenia, Belarus, Turkey, Saudi Arabia, and United Arab Emirates, where VAT has been introduced. We already collect and remit taxes for Switzerland.

Armenia: 20% Belarus: 20% Saudi Arabia: 5% Switzerland: changed from 8% to 7.7% Turkey: 18% United Arab Emirates: 5% Within this week, prices in the following countries will be updated.

Czech Republic: Prices will decrease for apps and in-app purchases (excluding auto-renewable subscriptions). India: Prices will decrease for apps and in-app purchases (including auto-renewable subscriptions). Turkey, Nigeria, Belarus, Armenia: Prices will increase for apps and in-app purchases (excluding auto-renewable subscriptions). You can change the price of your auto-renewable subscription at any time in iTunes Connect with the option to preserve prices for existing subscribers.

Your proceeds will be adjusted accordingly and will be calculated based on the tax exclusive price. The Pricing and Availability section of My Apps will be updated with the new prices. You can also download the updated price tier charts now.

If you have any questions, contact us.

Best regards, The App Store team