Apple and HTC reportedly cut down on Q4 component orders, expecting a slump in the global economy
1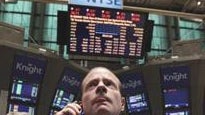 It feels like 2008 on steroids out there with the European sovereign debt financial crisis and stock markets swimming in a sea of red recently. The smart guys in the strategic committees of big companies know that this doesn't bode well for consumer electronics, as cash-strapped people are likely to hold off that next iPhone or HTC handset purchase, focusing on corn, wheat, rice or other staples instead.
That is why Apple and HTC are rumored to have scaled back on chipset orders for the fourth quarter, despite the
aggressive growth plans both companies had
. If the crisis continues to roar, the holiday season looks bleak, and component suppliers indicate that HTC has come back to 50-60 million units shipment numbers, whereas it had a 70 million target for 2011 at one time.
Apple has also allegedly shrunk its orders of parts to be shipped at the end of the third quarter, which were supposed to appear in gadgets made for the holiday shopping craze.
source:
Digitimes