Apple adds 'News' section to its TV app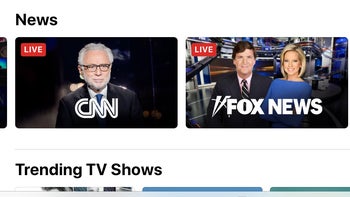 Back in September, alongside the unveiling of the
Apple TV 4K
, the company also showed a demo featuring the new 'Sports' and 'News' sections of its TV app for iOS and tvOS. The 'Sports' section got released back in November with the iOS and tvOS 11.2 releases, and today we've finally got the 'News' section.
The newly added 'News' section, which you can access in the 'Watch Now' tab of the TV app, allows you to watch live news from a couple of partner networks. The current list of networks includes CBS News, Bloomberg, Fox News, CNN, Cheddar, and CNBC. Worth noting is that the news stream is played from the app of the network of your choice, and if you don't have it installed, a prompt will show up and lead you to the App Store.
What's cool is that on tvOS you can ask Siri to play one of the networks for you. For example, "
Siri, play Bloomberg
" would work just as fine as switching to the app yourself. Just a quick note: to access the 'News' section, you need the TV app to be updated to its latest release – 11.2.5 for both iOS and tvOS.