Apple Watch released in 9 countries, still pretty hard to get one
23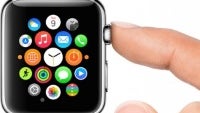 The Apple Watch has arrived! Those who placed their pre-orders as soon as April 10 - and that could be as many as 2 million among you - are receiving their units in different parts of the world. You can also buy the wearable right inside six high profile fashion stores around the world, that is. And those are:
Dover Street Market in Tokyo and London Maxfield in Los Angeles
Colette in Paris
The Corner in Berlin
10 Corso Como in Milan
In Apple Stores across 9 countries in the world - Australia, Canada, China, France, Germany, Hong Kong, Japan, the UK and the US - eager customers and curious fans can still get to try on the wearable and place an online pre-order if they would like to buy it. You can't walk in watch-less and walk out with an Apple Watch, however. Outside these countries, your best bet is to ask around the nearest Apple shop for availability, or wait until the Watch hits your local online store to place a pre-order. And then there's always eBay, of course, but be prepared to pay more than double the price for a unit.
If you missed the initial pre-order wave, you can wait until May 8th for a second chance to place one. Customers in Italy will be able to pre-order the wearable from the online Apple store. It is speculated that availability will be expanded to 21 more countries, which could be Austria, Belgium, Denmark, Finland, Ireland, Isle of Man, Liechtenstein, Luxembourg, the Netherlands, New Zealand, Norway, Portugal, Qatar, Russia, Saudi Arabia, Spain, Sweden, Switzerland, Taiwan, Turkey, and the United Arab Emirates.