Strong smartwatch sales put the Apple Watch on top of the global wearables market for Q1 2018
16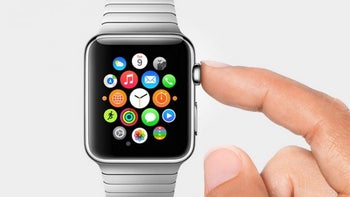 Last month, research firm Canalys had Apple and Xiaomi neck and neck in the battle for the top global market share in the wearable band category during Q1 2018.
Both Apple and Xiaomi were said to own 18% of the market each
with the
Apple Watch
and the Mi Band, respectively. But another research firm has weighed in for the same three month period; IDC's data shows Apple with 16.1% of the worldwide wearable market at the end of March, compared to 14.8% for Xiaomi.
IDC says that Apple rode a strong quarter for smartphones to the top. Basic wearables, like the $30 Mi Band 2, saw shipments decline 9.2% from January through March compared to a 24.8% year-over-year rise in smart wearables shipments. Overall, deliveries of wearables rose 1.2% in the first quarter of the year to 25 million units.
Apple's Q1 wearables shipments rose 13.5% year-over-year thanks to the Series 3 cellular Apple Watch. The tech giant shipped 4 million Apple Watches in the quarter, compared to 3.6 million in Q1 2017. While Xiaomi was second in market share, the low price of the Mi Band 2 means that it was responsible for only 1.8% of the revenue earned by wearable manufacturers in the first quarter. Xiaomi did manage a
2.3
% increase in market share year-over-year as shipments rose to 3.7 million from 3.6 million fitness trackers.
With a 28.1% decline in shipments from Q1 2017 to Q1 2018, Fitbit still managed to land in third place. The company's new Versa smartwatch (
which sold 1 million units in its first six weeks
), didn't launch until April. This means that its sales don't count in this report, but will for the next one. For the first quarter, Fitbit owned 8.7% of the wearables market, down from the previous year's 12.2%.
"With the move towards smarter devices, we're also starting to see hints of where the wearables market is headed. Additional sensors, years of underlying data, and improved algorithms are allowing pillars of the industry like Fitbit and Apple to help identify diseases and other health irregularities. Meanwhile, roughly one third of all wearables included cellular connectivity this quarter, which has allowed new use-cases to emerge."-Jitesh Ubrani, senior research analyst, IDC Mobile Device Trackers
Huawei increased its wearable shipments by 147% year-over-year. That took deliveries from 500,000 units during last year's first quarter to
1.3
million units in the same period this year. It's market share more than doubled from
2.1
% to 5.2% even though most of its sales remain limited to Asian markets. Garmin finished in the top five by delivering 1.3 million wearables in the period, up 9.1% year-over-year. The company finished the quarter with 5% of the market.