42mm Apple Watch Series 4 screen to feature higher 384 x 480 resolution?
6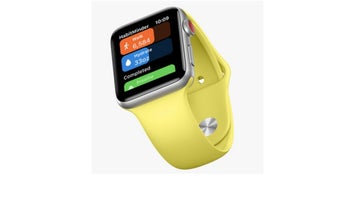 A week from today, Apple is expected to unveil the
Apple Watch Series 4
(along with some other devices). The latest version of the wearable should sport a larger
edge
-to-edge display. According to a report published today, information culled from the most recent watchOS 5 beta suggests that the resolution of the display on the 42mm timepiece will be 384×480. That compares to the 312×390 seen on the current 42mm
Apple Watch
.
Apple will raise the resolution on the Series 4 models by making the screen slightly bigger while reducing the size of the bezels. There should be a number of new watch face options available to fit both the larger size of the display, and the edge-to-edge design. And there will be more complications, with as many as eight appearing on the watch face at the same time. One new feature, which we pointed out to you last month,
is a reading for the UV Index
.
This is a scale that determines how much of a threat the sun's rays are to you during the day.