Apple Watch Series 4 will let you know if you need to apply sun screen before going out
30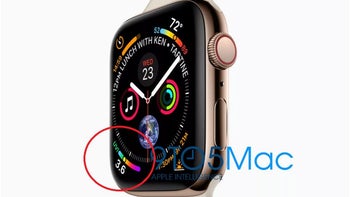 Yesterday, we showed you a
leaked image of the Series 4 Apple Watch
that will reportedly be unveiled by Apple on September 12th. The larger edge-to-edge display has room for eight complications, including a new one seen in the lower left corner of the render. What appears to be a UV Index reading is seen, including a scale. The scale appears to be in line with the ones used by the WHO and the EPA.
With the UV Index reading available, those with the Series 4 Apple Watch will be able to know in advance, with a glance at their timepiece, whether they need to slather on a ton of sun screen before going outside. A reading in the 6 to 7 range indicates that unprotected skin will be at risk outdoors. At that level, the EPA suggests applying SPF 30+ sunscreen every 2 hours, even on cloudy days, and after swimming or sweating. A higher reading calls for minimal exposure to the sun from 10am to 4pm, and the donning of a hat and sunglasses.
This new feature is all part of Apple's health initiative, one that heavily depends on data compiled by the sensors on the Apple Watch. The device has already shown itself to be
capable of saving lives
by monitoring a wearer's heart rate. With an easily accessible UVI reading, the timepiece can help prevent severe sunburns, skin cancer and other serious health issues from affecting those who heed its warnings.
You can check out the EPA's UV Index Scale by clicking on this
link
.