Apple Watch finally gets that promised Pandora offline music playback support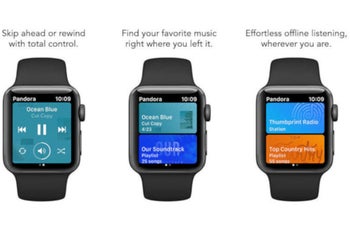 Pandora
announced early this week
that its
Apple Watch
app now includes the long-awaited offline playback feature. The new functionality will allow
Pandora subscribers
to stream their most recently downloaded songs, albums, and even playlists without having their iPhones nearby.
More importantly, the new feature is compatible with all
Apple Watch
models, regardless of when they were launched on the market or whether or not they include cellular connectivity. Every song that you select for offline listening will be automatically downloaded when you pair your iPhone with your Apple Watch or when they're connected to the same Wi-Fi network.
There's a catch though, as offline music playback support is only available for Pandora premium accounts, which means you'll have to pay a subscription to benefit from the new feature. Keep in mind that if you have a Pandora Plus account, which costs $4.99, you'll only be able to access three of the most recent stations, whereas if you own a Pandora Premium account ($9.99/month), you can stream your ten most recent songs, albums, and playlists.
Aside from adding offline music playback support, Pandora announced other app improvements specifically tailored for the Apple Watch app. For example, users can now control their playback directly from the watch thanks to commands like play, pause, skip and replay.
Other nifty functions available from your
Apple Watch
are the option to control the volume and giving the thumb up or down to a song. Also, you can tap the name of a song Pandora is playing to view the name of the album or station.
The new feature requires the latest version of Pandora app and
WatchOS 5
to be installed on your Apple Watch, as well as a Pandora Premium account.