Apple Pay update adds support for 26 more banks and credit unions in the US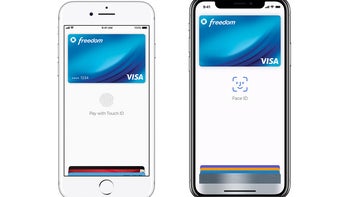 Apple Pay
works with most of the major credit and debit cards from the top banks in the United States, but there are still financial institutions in the country that don't offer support for the mobile payment service.
Today, Apple added support for 26 more banks and credit unions, all from the US. You can find below the names of the new banks and credit unions that now support Apple Pay:
ACIPCO Federal Credit Union
Arthur State Bank
Bank of Eastern Oregon
Blue Federal Credit Union
Capital Credit Union
Choice One Community Credit Union
City Bank
Community Powered Federal Credit Union
Dedham Savings
Delta Bank
Education Credit Union
First Colorado National Bank
First State Bank & Trust Company (MO + NE now)
Freedom Bank
Glacier Hills Credit Union
Helena Community Credit Union
LifeStore Bank
Lincoln National Bank
Oregon Community Bank
Ridgewood Savings Bank
Southern Pine Credit Union
State Bank of Table Rock
Sun Community Federal Credit Union
Taconnet Federal Credit Union
Territorial Savings Bank
Utah Federal Credit Union
It looks like Apple is making great progress in the US expanding support for its mobile payment service, which can't be said about Europe. In any case, for the full list of supported banks, make sure to check out the source link.