Facebook Messenger gets Apple Music integration, check out all the new features
1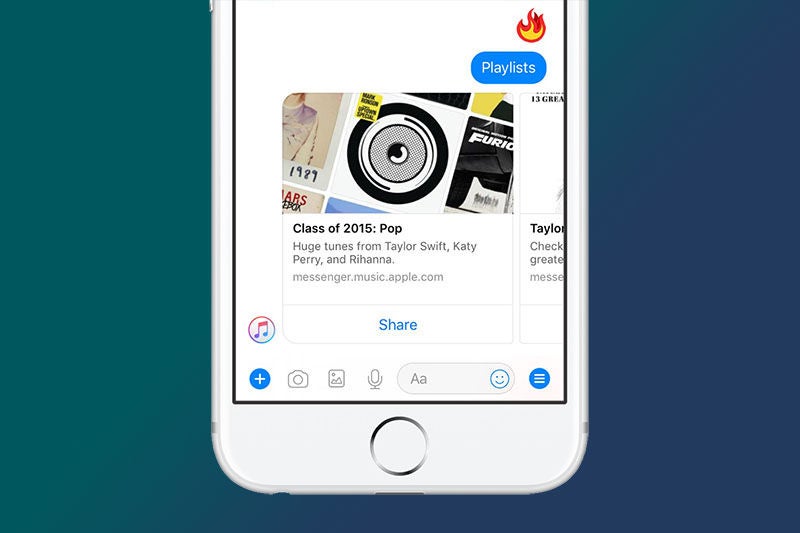 Music fans, rejoice! Apple Music has been integrated as a bot in Facebook Messenger, which will allow users to do some pretty cool things.
If you happen to be an Apple Music subscriber, you will be able to stream full songs within Facebook Messenger, a first for the popular chat app. Meanwhile, non-paying users can listen to 30-second song previews and share them with their friends. You can try it out right now, as the integration doesn't require you to download any updates.
In order to do so, open Messenger on a device of your choice, go to the Search function and look up Apple Music. You'll get a greeting message from the bot, informing you that it can give you music recommendations based on an artist, album, or genre that you like, while also providing you with a few editors' picks. You can also add the bot to a conversation by clicking the "+" icon on the bottom left and share songs with your friends.
The bot even responds to emojis by sending playlists suggestions based on the type of emoji you send. As any other
normal
human being, I tested it out by sending a poopmoji. Half of the results were actually somehow related, the other half involved artists and albums involving the word "pool". Still, I was slightly disappointed that nothing related to Nickelback popped up. Edgy jokes aside, you can also subscribe to Apple Music inside Messenger, which could very well turn the bot into a big revenue maker.