Another update is available for Android's Facebook app to address battery drain
2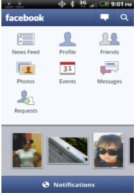 Without letting too much time pass by, Facebook was quick to act when reports started coming in from Android users stating that they were experiencing severe battery drain on their handsets since installing the newest version of the app.
Version 1.3 of the Facebook app for Android
was released earlier in the week, but Facebook managed to release an update to version 1.
3.1
swiftly. Even though users were thrilled to see the app receive a major overhaul to deepen its experience, there was an apparent nasty bug that prevented handsets from going into sleep mode – thanks partly to the app's background updates. Thankfully, Facebook was quick in getting this pushed out to the Android Market so that users can download is as soon as possible and get back to using the app – without the worry of finding a completely drained handset upon turning it on after a couple of hours.
via
Androinica