Another Samsung Galaxy S II ad released, talks up its dual-core CPU and HSPA+ support
3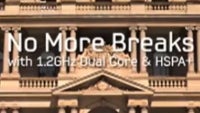 We don't know about you, but it seems to us that Samsung wants every single person on the planet, including your granny, who (presumably) is not particularly tech savvy - to know that its new heavyweight - the
Samsung Galaxy S II
- is awesome any way you look at it.
This particular ad is talking up the dual-core Exynos processor, which, as you surely know, is clocked at 1.2GHz, as well as the HSPA+ 21Mbps support you get with this handset.
It's obvious that Sammy is putting a lot of faith (and resources) in this handset, which seems justified to us - truth be told, our initial impressions (we are currently reviewing this beauty) are that the Samsung Galaxy S II may live up to the hype, as it genuinely seems like one heck of a phone.
via:
Samsung Hub