Andy Rubin is leaving Google, 19 months after he left the Android team
41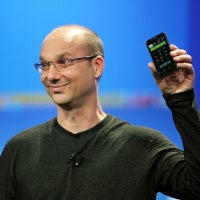 Andy Rubin - the man who created Android about a decade ago, ultimately allowing Google to own
the fastest growing tech product in history
- is now leaving the Mountain View company.
According to The Wall Street Journal, both Andy Rubin and Google have confirmed the departure. Reportedly, Rubin's next project involves "starting an incubator for startups interested in building technology-hardware products." Other details haven't been revealed.
The news comes less than two years after
Andy Rubin stepped down
from leading the Android team in order to take care of other projects at Google (including managing its robotics division). Sundar Pichai took over the Android team, and is still leading it today.
In 2000, Andy Rubin co-founded Danger, Inc. (maker of the iconic T-Mobile Sidekick phone), quitting the company in 2003 to co-found Android, Inc. - which was bought by Google in 2005.
In March 2013, when Andy Rubin announced his departure from Android,
he said
he was "an entrepreneur at heart", and that it was "the right time" for him "to start a new chapter within Google." Well, he definitely remains an entrepreneur at heart, as he's now starting another new chapter, but this time without Google. We wish Andy Rubin well in his new endeavors!