Android's Gmail app is updated with new features in tow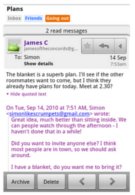 The best Gmail experience on a mobile phone is getting better now that Google is going to release updates for the Gmail app in the Android Market – meaning that we don't have to wait for major Android updates to see them. Now the new update to the Gmail app is only available to Android 2.2 devices, so if you're not yet included in the small group of handsets, you're going to have to wait until Froyo hits your specific device.
However, for all the others already situated with Android 2.2, you can expect to see some improvements with Gmail on your handset. For starters, the message actions bar will continue to stay on the top of the screen as you scroll through a long email – so you'll always have it on hand for lengthy messages. Secondly, you'll be able to view threaded emails more easily, like on a desktop, by simply clicking on "Show quoted text" to see the contents of a previous message. Lastly, there is now limited support for Priority inbox which is classified with the "Important" label.
source:
Google Mobile Blog