Android also gets Yahoo app update with Summly integration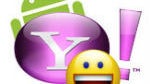 Exactly one week ago, Yahoo updated its official app for iOS to
version 3.0
, bringing a revamped UI and Summly integration to the feature set. Today, Yahoo has released a similar update to the official Yahoo app for Android. Although, the Android app is only getting bumped to version 1.0, it is also getting the Summly integration and new visual style.
As with the iOS app, the new Android app has gotten the updated UI, but also like the iOS version, Yahoo has chosen to make the UI its own rather than taking advantage of the design language of either platform. The news feed can do endless scrolling, but article images don't always load fast enough, so they will randomly pop-in after a second. And, as with iOS, you have to really like the mix of real news and gossip that Yahoo offers or else be sure to customize the topics you see.
The update also brings image and video results to the web searches within the Yahoo app, although it probably won't replace either the Google Search app or Bing Search, if you prefer that. If you want to give the Yahoo app a try, it's available for free in the
Google Play Store
.