Android activations back up to 300,000 per day according to Andy Rubin
0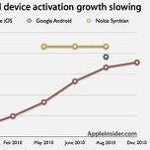 Earlier Wednesday, we
reported
that after a sizzling hot Summer, Android activations were cooling down like the weather up north. A current reading put the number of Android phones switched on daily at 214,000 which is a small 8% increase from the figures seen in August. Some read the slowing increase as a sign that Androidmania was slowing down.
But as if on cue, the week's number one name in print, Google VP Andy Rubin, sent out a tweet correcting those who came up with the activation numbers. According to Rubin, 300,000 Android devices are getting turned on each day. The number quoted by Rubin is interesting because not only does it top the 214,000 estimated earlier, it also beats the 270,000 Apple iPhones activated daily.
What about the future of Android? The immediate future should be bright with duel-core phones set to launch soon along with the release of the lastest Android build, 2.3 aka Gingerbread. After that, the OS optimized for tablets, Honeycomb (Android 3.0) will be released. It looks like there should continue to be strong momentum for the green robot in the months ahead.
source:
Twitter