Android activations level off after a hot summer; iOS continues to hold lead
1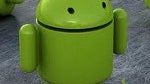 After a sizzling hot summer that saw Android activations swell by 60% within a month, it appears that the demand for Android handsets has leveled off. Current figures show 214,000 daily activations for Android models which is a puny 8% increase from the figures seen in August. Furthermore, Google's open source OS was not able to catch up to the iOS platform with 270,000 activated daily as of October when the latest known figures were released.
We could be witnessing just a pause before new features like double-core processors start to make their way onto Android phones early next year. And after the amazing run that Android has had, a slowdown might be more welcome than a continuous rise that burns out. Activations doubled from 30,000 a day in the Spring of 2009 to 60,000 by February 2010. In May, the number rose to 100,000 activations a day to 160,000 the next month and 200,000 by August.
The first Android powered double-core device is expected to be the LG Star. We recently
showed you
a video of the handset, which is expected to launch early in 2011. And while we could see Android pick up momentum on the back of faster processors and newer OS builds, we need to keep in mind that it has a stronger challenge this year from Microsoft with that firm's smooth and responsive Windows Phone 7 OS.
source:
AppleInsider