Google keeps up with one tradition related to the new Android build
1
Just because Google has dropped the dessert-naming system for this year's new build of Android, it doesn't mean that it has stopped all traditions related to the naming of each new build. Each year, a statue representing the latest version of Android is placed on the lawn at Google's headquarters in Mountain View, California (commonly referred to as the Googleplex). Back in 2015, Google's desert name for Android 6.0 wasn't official until
the statue of the Android bugdroid carrying a marshmallow
was delivered to Google's HQ.
Today,
a tweet from Dave Burke
, Android's VP of engineering (via
Android Police
), showed the statue that was delivered for Android 10. It is the numerals "1" and "0" with the bugdroid's severed head resting on the inside of the number "0." Last year's statue, of course,
related to Android 9's codename of Pie
. Google rebranded its Android logo this year and it now includes the bugdroid's head without its body.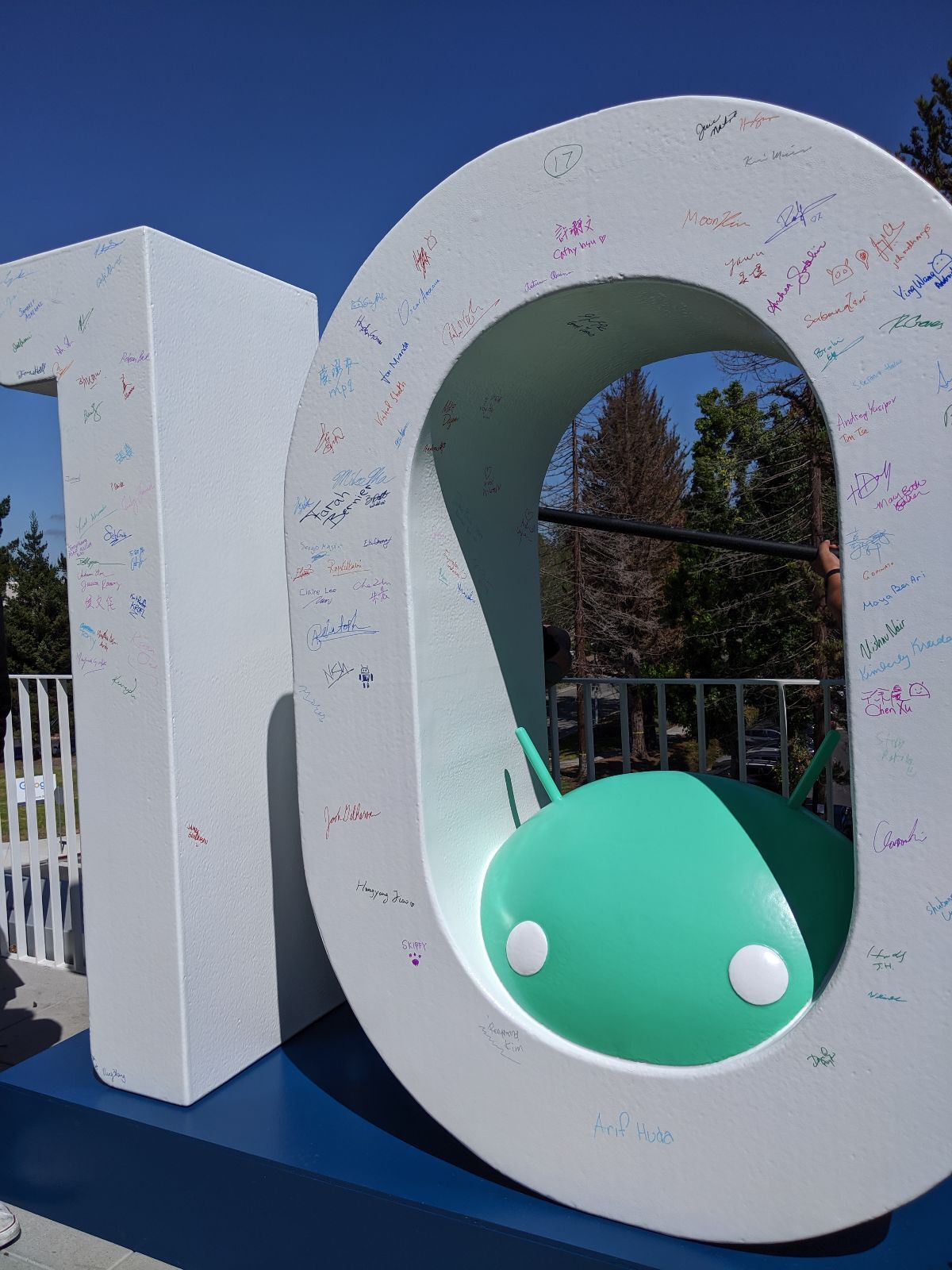 The statue for Android 10 finds its home at the Googleplex
How many Android dessert names do you remember? There are now 17 statues at the Googleplex starting with 2009's Android 1.5 (Cupcake). It wasn't until Android 2.0 (Eclair) was launched with the
Motorola DROID
in November 2009 that the operating system started to take off. In February 2011, Google released its tablet-only Android 3.0 Honeycomb build to coincide with the launch of the
Motorola XOOM
.
Here are the different versions of Android starting with Cupcake:
Cupcake 1.5 (April 27, 2009)
Donut 1.6 (September 15, 2009)
Eclair 2.0 – 2.1 (October 26, 2009)
Froyo 2.2 – 2.2.3 (May 20, 2010)
Gingerbread 2.3 – 2.3.7 (December 6, 2010)
Honeycomb 3.0 – 3.2.6 (February 22, 2011)
Ice Cream Sandwich 4.0 – 4.0.4 (October 18, 2011)
Jelly Bean 4.1 – 4.3.1 (July 9, 2012)
KitKat 4.4 – 4.4.4 (October 31, 2013)
Lollipop 5.0 – 5.1.1 (November 12, 2014)
Marshmallow 6.0 – 6.0.1 (October 5, 2015)
Nougat 7.0 – 7.1.2 (August 22, 2016)
Oreo 8.0 – 8.1 (August 21, 2017)
Pie 9.0 (August 6, 2018)
Android 10 (September 3, 2019)