Google: Android M is Marshmallow as statue is rolled out on the lawn; new build starts with Android 6.0
62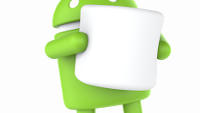 Google has made it official. Android M is Marshmallow and a statue of the Android mascot carrying a marshmallow has been rolled out onto the Google lawn. It joins the other statues that have been placed on the lawn that memorialize past Android builds. Marshmallow will start with Android 6.0.
The tradition of naming Android builds after desserts in alphabetical order started with version 1.5, named Cupcake. Subsequent updates included Donut, Eclair, Froyo, Gingerbread, Honeycomb (tablets only), Ice Cream Sandwich, Jelly Bean, KitKat and Lollipop.
Android 6.0 Marshmallow will be rolled out starting this fall. The Android 6.0 SDK is now available (API 23) for developers. In addition, the final Developer Preview for the new build has also been released today by Google.
Among the new features of Android Marshmallow are a Doze feature that will double standby times by putting your phone into a deeper sleep when not in use. This will obviously improve battery life. Also, the new permissions model makes it easier to install and update apps. And a new fingerprint scanning feature will become native with the update.
Ever wonder how the Android lawn statues were made, or why Android uses dessert names to distinguish different versions of the open source OS? Don't forget to check out the video below, produced by two Googlers named Nat and Lo (Hey, that rhymes!)
source:
Google
,
@davey-burke
,
@Tojiro
,
Natandlo