Analytics firm says that Android had a 68% share of the global market during Q2
57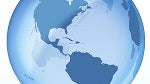 Androidmania, which really started with the launch of the Motorola DROID in late 2009, has become a global phenomenon and now
has a hold on 68% of the global smartphone market
according to figures from analytics firm Canalys. In some areas of the world, Google's open source OS has done even better. For example, in China Android has a whopping 81% share of the smartphone market.
The worldwide global smartphone market showed growth of 46.9% from the second quarter of 2011 to the second quarter of 2012. 158.3 million units were shipped last quarter, up from the 107.7 million shipped in the second quarter of last year. Android outperformed the global smartphone industry by
showing growth of 110% year-over-year
to hit 107.2 million units shipped in the 2012 second period. As good as Android's performance was, Windows Phone actually showed the highest growth with a year-over-year gain of 277.3% The problem there is that Microsoft's mobile OS started from such a low number, it was easier for it to show those results.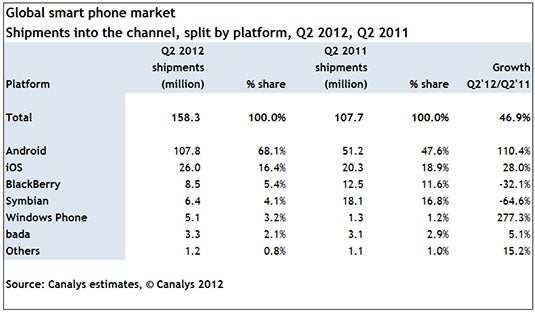 Android more than doubled shipments globally in Q2
The worse performance came from Symbian which showed a year-over-year loss of 64.6% in shipments to
just 6.4 million units
. BlackBerry fared poorly as well, losing 32.1% of their 2011 second quarter numbers which resulted in just 8.5 million units shipped globally. The top manufacturer worldwide remains Samsung with 31% of the global smartphone market followed by Apple, Nokia, HTC and RIM.
Canalys also broke down shipments into China and found that Android had an 81% share of the smartphone market in the country during the second quarter, up from 70% last year. China has been a hotbed for smartphone sales as shipments in Q2 rose 199% year-over-year and 32% sequentially. The country has 27% of the global smartphone industry compared to 16% in the States. The
leading manufacturer in the country is Samsung
with a 17% share. After the Korean manufacturer comes ZTE, Lenovo and Huawei with year-over-year growth figures of
171%, 2,665% and 252%
respectively. Apple is fifth in China and despite a 101% gain in shipments from last year, shipments were down 37% from this year's first quarter. Nokia and Motorola had a poor quarter in the country with Nokia's shipments declining 47% from 2011.
source:
Canalys
via
AndroidAuthority
Recommended Stories