Amazon's Kindle app will be on board with the BlackBerry PlayBook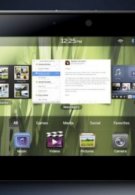 One would only have to imagine, based primarily from its name, that the BlackBerry PlayBook would be an ideal solution for those who take pleasure in reading books – especially with its display resolution of 1024 x 600 pixels. However, the book reading experience will be supplemented now that Amazon's Kindle App will grace the tablet.
Following very closely to their existing app available right now to existing BlackBerry users, the PlayBook will also implement Amazon's WhisperSync technology which enables you to read books that you've purchased, on a variety of devices that support Kindle. At the same time, the technology will also keep everything in check if you happen to jump from one device to another – meaning that you keep your place in the book.
It would've been unheard for the PlayBook to launch without some kind of ebook reader, but naturally, the Kindle app will more than suffice potential owners when it's launched some time next year.
via
SlashGear