Amazon's Fire 10 is now available with an aluminum back cover at no extra cost
3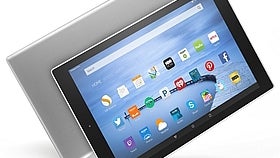 Amazon has introduced a new version of the Amazon Fire 10 tablet that replaces the plastic back cover of the existing models with one made out of aluminum. Furthermore, Amazon has also introduced a new storage option that can hold more videos, music, games, and apps.

One of the main disadvantages of the Amazon Fire 10 tablet is that the device feels a little cheap to hold. Although it's not the solitary culprit for the subpar build quality, the plastic back cover of the Fire 10 is largely responsible for this disadvantage. As such, many are likely to find Amazon's decision to offer a new version of the Fire 10 with a metallic back as a highly inspired one. What's more, the new variant is priced the same as the old versions with plastic backs.

The 16GB version of the Amazon Fire 10 is available at $229.99 while the 32GB version is priced at $259.99. Both of these internal storage options are available in all three colors: white plastic, black plastic, or with a silver metal finish. The new 64GB version of the Amazon Fire 10 is only available with an aluminum back and will set you back $289.99.

Aside from the new back cover and the new internal storage variant, everything else about the Amazon Fire 10 remains the same. The raw specs include a 10.1-inch display running at 1280 by 800 pixels, a quad-core processor, a 5MP camera, and a battery that's slated to suffice for up to 8 hours of up time. That's not an impressive specsheet, but at a starting price of $229.99, the Fire 10 does offer a lot of value for the money.