Amazon to launch at least 2 tablets in 2012?
0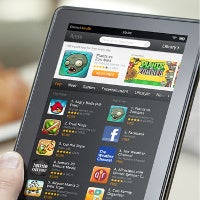 Amazon will release at least two tablets in 2012
succeeding its succesful Kindle Fire, and there might be even more tablets in the pipeline, according to industry sources speaking for Taiwanese DigiTimes.
The first and most obvious 2012 Amazon tablet device is a
direct 7-inch successor to the Amazon Kindle Fire
that will arrive with the same sweet price of only $199. Shipments of the device are expected to start as early as the second quarter of the year.
The second device that is likely to arrive this year is a
bigger tablet with a 10.1-inch display
. Supporting this rumor are whispers about Amazon adding HannsTouch as a new supplier of touch sensors, along with Wintek and TPK Holding.
The 10.1-inch Amazon tablet is said to be priced at between $249 and $299, a price range that also sounds very intriguing for the budget tablet buyer.
There are two more devices that seem less likely to actually make it to the shelves. An 8.9-inch Amazon tablet would find it hard to fit between the 7 and 10.1 inchers in terms of pricing, and that's one reason why the company might skip it.
There's also a chance of us seeing an ultra affordable $169 7-inch tablet, but supply chain manufacturers have allegedly been reluctant on giving quotes for such low-margin device.
In 2011, Amazon is estimated to have shipped nearly 6 million tablets, a number that is expected to grow more than three fold to around 20 million this year.