Amazing Alex to be Rovio's follow up to Casey's Contraptions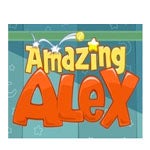 Finnish game developer Rovio continues to hint at its next big game. As we recently reported,
Rovio acquired rights to popular game Casey's Contraptions
, and now plans to make a successor that's sure to impress fans.
Recently in an interview with The Next Web, Rovio VP of Franchise Development said "
(the) gameplay is a perfect fit in our arsenal with its approachable, fun and highly addictive take on the physics puzzler genre. We are currently reworking the title (Casey's Contraptions) to enhance it, and getting ready to re-introduce it in a true 'expect the unexpected' Rovio style launch to an even larger audience.
"
Further hinting at the release is the discovery that Rovio has registered the domain rights to amazingalex.com.
Rovio anticipates going live with the successor to Casey's Contraptions in the next couple months. For those of you die hard Casey fans, you'll just have to wait a bit longer for the next iteration of the game. With the wild success of Angry Birds, Rovio knows what they're doing, and we think the new game will be a huge hit.
source:
TheNextWeb