Alleged iPhone 5C specs sheet points to a 4-inch, dual-core device with 1GB RAM, iOS 7 and Siri support
95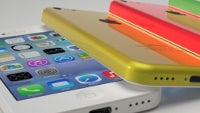 After months of high-profile leakssurrounding the iPhone 5C, there's no denying that things havereached a state where we've started to approach the whole subject asa little bit of a bore. The plethora of colorful shells that are saidto come with Apple's budget iPhone have been a topic of extensivediscussion, for if nothing else, they constitute something of adeparture from the spirit of premium, high-end products only. Andwhile that's a significant departure from Steve Jobs' legacy, it'squite natural that after a while we all became a little neutraltowards the subject, for informative scoops were rare tonon-existent, not to mention wildly speculative.
This whole affair has now changedsomewhat with today's leak, becausewhile still just as unsanctioned as any prior ones, we finally getour hands on something a bit more specific.
Here are the rumored iPhone 5C specs:
Unknown dual-core chipset

A 4-inch, 1136x640 display

1GB of RAM, 16/32/64GB of internal storage

8MP shooter at the rear, 1.2MP at the front

124.2x58.4x7.6mm, 106g

Will run iOS 7 with Siri (support for English, French, German, Japanese, Chinese, Korean, Italian and Spanish)
The list is obviously unconfirmed,and is the work of an insider that has the ear of Dutch SIMOnlyRadar. If these turn out to be true, though, then expect the iPhone5C to be exactly as slim and just as uniform as the iPhone5 – a tad taller, a bit teeny bit narrower, and a littlelighter compared to the 5S. Also interesting is the fact that thisnew intel contradicts rumors claiming that the iPhone5C may launch sans Apple's personal assistant.
source: SIMOnly Radar