Alcatel announces the PIXI 7 - an ultra-low cost Wi-Fi only tablet that will retail for just $110 (79 EUR)
7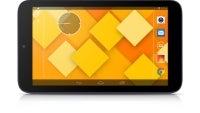 With the wave of affordable smartphones that hit this year's MWC, we were left wondering if this price shift will catch on to tablets as well. Although the competition in this segment isn't as heated as with phones, it didn't stop Alcatel from announcing the PIXI 7 - an ultra-low cost Wi-Fi only Android tablet that will retail for just $110 (79 EUR).

Of course, the PIXI 7 doesn't offer technology that will make your hands tremble in excitement. It has a 7-inch 960x540 (qHD) TFT display, a MediaTek 8117 chipset with a 1.2GHz dual-core CPU and 512MB (for EMEA) or 1GB (for LATAM) of RAM memory. It has 4GB of internal storage capacity, which can be expanded up to 32GB with an external SD card.
It also has a pair of 0.3MP cameras, and a 2840mAh battery that's good for up to four hours of browsing. It runs Android 4.4 KitKat, which is a nice surprise. The tablet has an IR port and Miracast support, which makes the it a good proposition for a smart remote control and media streaming device. And this completes the picture.
The Alcatel One Touch PIXI 7, along with a set of optional accessories in various colors, will be available from July in Europe, the Middle East, and Africa.

source: Alcatel
Recommended Stories