Alcatel announces the GO PLAY and GO WATCH smartphone and smartwatch duo for active users
8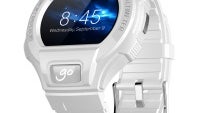 Today at IFA 2015, Alcatel announced a new family of GO devices, comprised of the GO PLAY smartphone and GO WATCH wearable. The GO PLAY is designed for active users and is able to take pictures underwater or be handled carelessly outdoors, thanks to a water, dust, and shock-proof construction. The smartphone can be dropped from a height of 1.5 metres without breaking apart, so don't push your luck beyond that. The GO PLAY also has Periscope, Vine, and Zello pre-installed, so you can live-stream your activities to the excited masses. It comes in eight colors and matching waterproof headsets and protective cases.
Specs-wise, the GO PLAY is a fairly modest, but reasonably up-to-date affair. The smartphone runs Android 5.0 features a 5-inch 720p resolution TFT display and is powered by a 1.2GHz quad-core Snapdragon 410 CPU. It comes with 8GB of expandable storage (4GB available to users) and 1GB of RAM. The camera setup comprises an 8MP auto-focus unit on the rear and a 5MP fixed focus unit on the front, both being able to record 1080p@30fps video. The handset's powered by a 2500mAh unit and includes extras such as FM Radio, 1-finger zoom, Mini apps, Multi-Tap wake up, and Idle screen.
The GO button triggers an "emotion pulse measurement".
Turning our attention to the GO WATCH, this one isn't missing on the waterprof, dustproof, and shockproof properties of its smartphone compatriot. The watch isn't based on Android Wear (it's using a proprietary operating system), but is compatible with Android and iOS alike, and brings notifications about messages, emais, calls, and the weather. The watch is customizable with a changeable front casing and wristband. It also has an unique trick up its sleeve - emotion sharing! The GO button triggers an "emotion pulse measurement" that creates an emotional graphic from the input of the gyroscope, heart rate sensor, and accelerometer. You can instantly share the result on social networks, or set it as the wallpaper of your GO WATCH. Oh-kay!
The GO WATCH's spec sheet revolves around a 1.22 LCD IPS 240x240 resolution display (circular shape), a Cortex-M4 based processing unit, and a 225mAh battery that takes an hour to charge. The device is compatible with Android 4.3 or above, and iOS 7 or above.
Recommended Stories