Alcatel OneTouch Idol 2 mini (s) hands-on: a sleek midranger
5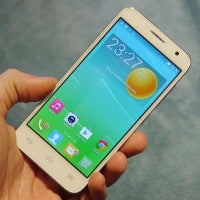 OK, Alcatel is really getting serious with its smartphone propositions. The not-so-independent manufacturer has been pushing these slim and sexy devices left and right for a while now, and while they don't seem to have picked up so much traction, the company seems willing to just keep outing more and more smartphones for us to enjoy. For example, the OneTouch Idol 2 mini is just one of the beautiful handsets that Alcatel has brought to MWC 2014. So, along with the new mainstream OneTouch Idol 2 smartphone, the Idol 2 mini is being introduced as a more pocketable model that tries to avoid making a ton of compromises when it comes to specs. And, if you're missing LTE, you can always get that by going for the Idol 2 mini s, which is the same thing, but with 4G LTE.
Design
Since this is Alcatel's Idol line we're talking about, the Alcatel OneTouch Idol 2 mini is all about design! Well, not really, but the phone does look pretty good - just as any other Alcatel Idol phone. The Idol 2 mini's exterior is a treat for the aluminum lovers among you out there, as the back of the phone sports this nice metal piece, adding a bit of exquisitness to that otherwise perfectly-midrange configuration. The Idol 2 mini is a very, very light handset, which is pretty cool - you don't get that kind of feather-lightness in a lot smartphones out there. Meanwhile, the just slightly heavier Idol 2 mini s (same, but with LTE), has a more of a no-bell-and-whistles design - with clean and smooth, glossy plastic used for the entire shell, save for the screen. All in all, both handsets are quite light, compact, and feel good to the touch, meaning they are pleasant to hold and work with. As an added bonus, the clean, logo-less design of the front makes the phones look quite universal and stylish.
Display
As we said, the OneTouch Idol 2 mini is a midranger, so don't expect wonders from it in the display department. It comes with a nicely-sized 4.5" screen, which is all good, but the resolution is not that impressive: 540x960 pixels (qHD). This results in a less-than-desirable pixel density of 244 ppi, but you know what? The screen isn't really that bad, especially when you have in mind that it's an IPS one, so the actual image quality is quite high. Sure, things aren't as fine and easy to read as on a 720p or 1080p display, but still, we can ourselves using such a screen for longer periods of time, without having any real issues with regards to display quality.On top of that, we have the Dragontrail glass, which makes the display sturtier, and there's also an oleophobic coating to quickly get rid ot those stains on the display.
Interface and Functionality
You didn't think that Alcatel's going to pass up the chance to add its own set of tweaks to Android, did you? Well, good that you didn't, because the company has done just that - it has customized all the core applications and visuals, leaving you with a rather different kind of Android - at least visually. Thankfully, the interface structures and general principles has been left unchanged, so if you've used an Android handset before, it probably won't be that much of a hassle before you get the hang of Alcatel's UI.
Along with the rest of the usual stuff, Alcatel has also found some time to come up with some pretty neet new additions to its custom UI. It's called One Finger Zoom. The feature works almost as advetised, and its main purpose is to let you do some precise zooming while using just one hand, or actually - finger. So here's the deal - you double tap on the screen, and then you hold your finger down after the second tap. At this point, you should be able to move your finger up and down the screen, which will zoom in and out, respectively. You can do this in the browser and in the photo gallery, and we certainly find it quite useful, especially for those moments when you can't use two hands to pinch-zoom, or you simply don't feel like it.
Processor and Memory
Unfortunately, Alcatel hasn't specified exactly what chipset the OneTouch Idol 2 mini (s) uses. They just state that it's a 1.2 GHz quad-core CPU, and that's perfectly OK with us, as long as everything's running swiftly and smoothly. Sadly, this isn't exactly the case at all times with the Idol 2 mini, as the handset does exhibit some slightly lag, though nothing major.
Beyond that, the single-SIM card version of the phone is going to pack 4 GB of storage, plus 1 GB RAM, while the dual SIM option is said to have 8GB of memory, along with 1 GB RAM.
Camera
The camera is really important for almost every smartphone user nowadays, and Alcatel has made sure to equip the OneTouch Idol 2 mini (s) with a decent snapper of 8 megapixels with autofocus. We obviously haven't tried the camera yet, seeing that we've only dealt with prototype units so far, and while we aren't having our hopes too high, we do expect a reasonable level of quality with its shots. There's an LED flash accompanying the main sensor, and what do you know - there's also a 2 MP front-facing shooter to take care of those selfies. In addition, you can also record 1080p video with the Idol 2 mini (s), which is an impressive feat for a handset of this caliber.
But it doesn't stop there. In the software camera department, the Idol 2 mini (s) sports some much-appreciated modes like HDR, a video stabilizer option and a built-in QR code scanner, which is nice, as it spares you the effort to download a third-party one.
Conclusion
For a second year in a row, Alcatel is bringing some very, very hot devices to MWC. These smartphones aren't particularly impressive in terms of specs or technology, but they just feel so refined. Thankfully, the OneTouch Idol 2 mini and Idol 2 mini s aren't an exception to the rule. These are some very good-looking and functional handsets that will get you a lot of bang for your buck. Really, the only major drawback here seems to be the screen resolution, which is 540x960, but then again, it's not really
that
bad with its 244 ppi pixel density.
Other than that, the phone seems to be working smoothly, and, of course, its design is just wonderful - it's so clean, light and thin, that it can be easily differentiated from most other Android offerings on the market, especially those in the mid range. With a bit of luck, the Idol 2 mini is also going to take good pictures - and there you have it - an aggresively priced smartphone that's very well-rounded and can offer you a lot in the functionality department.