Alcatel One Touch Fire hands-on
1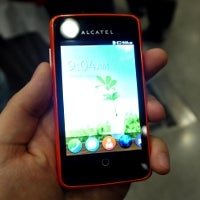 How about
Mozilla entering the mobile OS game
, folks, and all of a sudden
Alcatel One Touch Fire
we have in our hands became pretty interesting. Firefox OS is undoubtedly tailored to first-time smartphone buyers at this stage, but it is a breath of fresh air to see some different interface than the Android-iOS-WP triopoly.
The interface is rather intuitive, and we were
able to locate the contact and calling apps quickly
, as well as those for texts, media, Facebook and so on. the crown jewel is, of course the Firefox browser, which, if you are accustomed to the desktop counterpart will feel right at home here, too, and Mozilla promises the extensions you know and love to be present in its OS too.

Alcatel One Touch Fire is powered by a humble 1 GHz processor, which however fires up the interface well, and has a smallish 3.5" screen with low HVGA resolution, which only the screen size saves from looking too pixelated. The screen doesn't shine with good viewing angles, but the colors representation is decent.
The handset is quite small and somewhat chubby so it's easy to cup and handle, but with this screen size and resolution it is aimed at basic tasks mainly. Have a look at our hands-on photos and video below.