Alcatel OT-980 budget Android available in October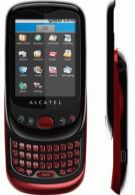 The Alcatel OT-980 budget portrait slider will be available in the United Kingdom starting in October. It will be sold through Carphone Warehouse for £99.95 on a pay-as-you-go plan.
The device, which has been available for a short while in France, attracts with its form factor rather than its raw stats. The device runs Android
2.1
(no word on Froyo) with a 600MHz processor. It also features relatively low 240 X 320 resolution on a 2.8 inch screen. Its charm instead comes from its slick styling and affordability.
At a distance, one might think that the OT-980 was a
BlackBerry Torch
. Though it might not be a popular thing to say, the Alcatel device is a far better value than the Torch, especially considering the Torch's main appeal is its style, rather than its technological improvements (and it's on contract).
In the words of Alcatel itself, "Continuing the quest to make their communication devices accessible to the mass market, the Alcatel OT-980 is the bold new choice among Android 3G/3G+ smartphones." Marketing aside, it does seem like a strong candidate for their flagship device.
source:
TechRadar
via
AndroidGuys