Et tu, Huawei? Affordable P20 Lite leaks, and guess what it has at the top
6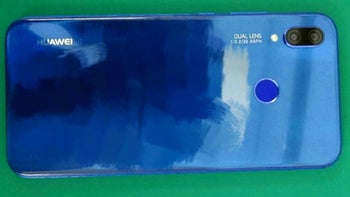 The cheapest member of the
upcoming P20 family
by Huawei has leaked out completely in regulatory filings, and... surprise, surprise... it does show a cutout at the top bezel. Yes, just like the rumors and leaked cases suggested, the P20 Lite, which will cost about $370, does sport a notch, and its flagship brethren the
P20
and
P20 Plus
might as well. Thus, if the
LG G7
indeed houses the front camera and earpiece in a thicker top bezel area, as
speculated
, most major Android manufacturers, save for Samsung and Sony, would be copying Apple's way of achieving an "all-screen" phone this year, it seems.
The alleged P20 Lite cutout sits in the middle between the tiny one on the
Essential Phone
, that goes around the front camera only, and the wider notch of the
iPhone X
, which has to house all the TrueDepth camera paraphernalia that allows for Face ID, Animoji, and other 3D face-scanning shenanigans. The fact that Huawei boasted not long ago that it has developed technology similar to Face ID didn't fly over our heads, and a fraction of this tech may have trickled down to the Lite version as well, which may introduce a 2D face recognition, similar to what Samsung or OnePlus are offering on their phones now, with varying success.
Too bad, as otherwise the P20 Lite sounds pretty good for the price range - 5.84" display, 4GB RAM/64GB ROM, and a dual camera in a 16MP + 2MP config, with a whopping 24MP front-facing shooter, all backed by a 2900mAh battery.