Adidas soccer shoe and app can see if you're really on your game
3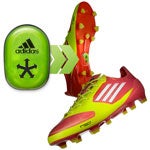 When it comes to sports, most people talk a lot of talk. Now, thanks to Adidas, you can provide the data to prove your skills, at least when it comes to soccer.
The free miCoach Soccer app for the iPhone and iPod touch allows you to collect data from the miCoach SPEED_CELL, which is chip either embedded in the F50 soccer cleat or can be purchased separately and clipped onto any cleat.
The app can track and measure top speed, number of sprints, distance in speed zones, and total distance covered during training. After a practice or a game, you can share and compare states through Facebook and Twitter. You can even compare your stats against real soccer pros through miCoach.com.
The system is available in Europe, Asia, Latin America, and the U.S. Adidas says it is planning on releasing versions tailored for basketball, football, and tennis in 2012.
source:
Adidas
via
Mashable