Additional devices now support Skyfire for Android as it hits the 1 million download mark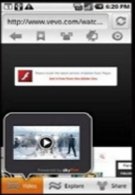 Now that some Android powered devices are able to play Flash videos, some would've surmised the untimely demise of the Skyfire web browser for Android – especially when it's no longer the sole browser enabled to load Flash videos. In reality, the genesis of Flash support on Android handsets isn't stopping users from downloading and using the popular server-side based web browser.
Recently, it managed to hit the 1 million download mark and basically places itself in the top .02 percent of all items downloaded from the Android Market. With that in mind, it should continue to steadily climb higher now that additional devices have been included to support the app. The latest batch of Android handsets to get in with the app are the Samsung Galaxy S, Samsung Epic 4G, Motorola DROID X, DROID 2, HTC Droid Incredible, and the HTC EVO 4G. So don't count out this web browser just yet; especially when it allows for social networking integration and Silverlight.
via
IntoMobile