Ad for Motorola XOOM shows what happened to the guy swallowed by the space pod
1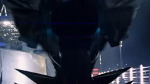 Remember
the teaser ad for the Motorola XOOM
that showed the guy getting swallowed up by a space pod after grabbing the Motorola XOOM? That brief 15 second spot didn't allow enough time for us to see what happened to this poor man who had simply decided to follow Verizon's web site for the tablet which said "Grab it and it Grabs you". Obviously, Big Red wasn't kidding.
Since the time that you viewed the teaser ad, you have not been able to sleep, worried about the outcome to the commercial. Well, we are happy to present to you the extended version of the spot which will soothe your mind. No, we really don't find out if the guy ever escapes the pod, but with a Motorola XOOM in his hand, it looks like he is happy as can be. Unless, that is, he wants to view a web site with Flash video, or was hoping to navigate the web or download content in 4G. But Adobe Flash Player 10.2 is coming as an upgrade and as we
reported
earlier, he will be able to send his tablet back to Motorola to upgrade his connectivity from 3G to 4G. So yeah, life in the pod will be just grand.
Just a note to let you know that the ad is in Spanish, but even if you don't speak the language, you should be able to understand the gist of the commercial.
source:
AndroidGuys
Recommended Stories