Acer hopes to become market leader in tablets in 2-3 years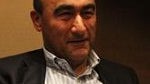 Acer hopes to beat Apple in the tablet segment and become the market leader within the next two to three years, according to an interview with the Taiwanese company's CEO Gianfranco Lanci. Acer projects to grasp a 10-20 per cent market share with the launch of its tablet lineup and further expand as Lanci said. The PC maker revealed its tablet lineup several days ago in New York City and we
have got you covered
with all the details.
The company sees its main advantage in emerging markets, where demand is huge and Apple, the current leader in tablets, is underrepresented. Despite some reports showing that Apple holds
some 95 per cent market share
in tablets, Lanci pointed out there was no standard platform for tablets (although iOS seems to be doing a pretty good job in our opinion). Just recently, Acer launched its "Alive" online content platform, which aims to offer app store functionality, and it seems the company will further push content integration efforts to attract users.
With the launch of the Galaxy Tab by Samsung, Acer will face growing competition. However the company is optimistic and claims that its better PC retail network will help out significantly in better delivering tablets. It does not seem that the iPad or the Galaxy Tab will give ground easily, though, so stay with us as we follow the tablet wars.
source:
Digitimes
Recommended Stories