Acer unveils its line of tablet offerings in New York City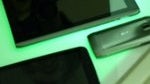 Readying itself for an all out blitzkrieg assault straight into the heart of the tablet market, Acer didn't waste any time in making some movement in this competitive space as they unveiled their line of upcoming tablets in an event in New York City. Rather than sticking to one specific form factor or platform, Acer intends to encompass a wide array of demographics with its tablets – thus offering solutions for just about anyone. Even though we're beginning to see a rash of manufacturers diving head first into this evolving category, it's going to take a lot of ingenuity and usability for Acer to win over consumers – even more now than ever when innovation will quickly catapult anyone into the limelight.
In all honesty, the event was more of an official unveiling for the Acer ICONIA tablet which sports an interesting looking form to the tablet space. The new concept device employs a 14" form factor which manages to pack in a unique dual-screen layout that enables you to navigate and interact with it using a variety of touch based gestures. It features two 14" HD displays which packs a resolution of 1366 x 768 pixels protected by Gorilla Glass, 3G connectivity, HDMI out port, Intel Core i5 processor, and Dolby Home Theater v3 audio. At a first glance, it definitely stands out as being something quite original, but the feeling quickly subsides as it slowly becomes more of a novelty. You can pull up the virtual on-screen keyboard by simply resting your palms on the bottom display like you would on an ordinary laptop. Naturally, it seems like it'll take some adjusting to get a feel for the strictly touch keyboard; which sadly lacks any haptic feedback. Additionally, it appears that there are also other input options available to the user – such as handwriting recognition. At its core, you're going to be presented with the usual Windows 7 experience, much like any other computer out on the market – but there are some elements that utilizes the dual-screens to its advantage; like media playback.
Furthermore, Acer showed off yet another Windows 7 tablet, but this time, it resorts to being simply your traditional giant slab. Measuring in with a 10.1" display, it'll offer all of the in-depth functionality you'd expect out of a Windows 7 tablet, but it can essentially become like any other notebook with an optional keyboard dock which of course, enhances the user experience. Unfortunately, Acer has yet to officially grace any of the other tablets, aside from the ICONIA, with a proper model name – but this one is simply being referred to as the 10" Windows 7 tablet from Acer. Other features include a next-gen AMD platform, two 1.3-megapixel cameras, Wi-Fi, and 3G connectivity. This one is slated for a February 2011 release, but pricing has yet to be made known.
Moving on to the Android side of things, the very first one we managed to check out was the 10.1" model that looks to be the most compelling of the bunch due to its high-end specs and crafty design. Surprisingly, its aluminum casing radiates all the subtle touches that any tablet requires to be garnered with a premium feel. It features a 10.1" capacitive touchscreen with WXGA (1280 x 800) resolution, dual-core 1GHz processor, 5-megapixel rear camera, HD front-facing camera, HDMI out, and it will offer the latest version of Android when it becomes available in April 2011. Stunning design from what we saw, but it'll be interesting to see how it functions seeing that the prototype unit we saw isn't quite polished on the software side.
Next up in Acer's line of Android powered tablets is a 7" model which boasts some powerful specs under its shell that surely won't disappoint anyone. Unfortunately, the only thing we were able to scope was a non-functioning mock unit that provided us a sense of how it looks and feels. That aside, it's still looking to be a decent offering seeing that it will feature a 7" touchscreen with a resolution of 1280 x 800 pixels, Qualcomm dual-core 1.2GHz processor, 5-megapixel rear camera, 5-megapixel front-facing camera, Dolby Mobile Technology, Wi-Fi, 3G, and DLNA support. If you're looking forward to this one, expect to see it come to market some time in April 2011.
Finally, Acer showed off their new smartphone which closely brushes the fine lines of being a tablet – due to its larger sized display over ones seen on other smartphones. Sizing up with a 4.8" widescreen display with a resolution of 1024 x 480, it'll find itself alongside current devices like the Dell Streak – which offers consumers the flexibility of being more mobile. In fact, we like its metallic looking chassis that once again exudes a premium feel. Additionally, it'll feature a 1GHz Snapdragon processor, 8-megapixel camera with LED flash, 2-megapixel front-facing camera,Flash 10.1 support, Wi-Fi, Bluetooth 3.0, and six-axis motion sensing.
As of right now, it's fairly difficult to judge Acer's line of tablets since all of them, except for the Acer ICONIA, are still in the process of being developed. Naturally, the reason why most of the Android powered tablets weren't functioning is because of Acer's commitment in offering a true tablet platform from Google; as opposed to throwing on the current mobile experience. Finally, Acer didn't mention any pricing for the tablets, but if they are looking at the current conditions in the market, they'll undoubtedly need to come up with something compelling to capture the hearts and minds of consumers.