Acer F1,C1,L1 and E1 rolling out under different names?
1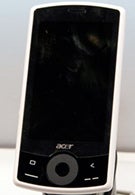 Back at
MWC 2009, Acer stated
F1, C1, L1 and E1 were merely code names and that it was quite likely the corresponding handsets hit the shelves under different names. A blog called Clove has posted information that reveals the names and release dates of the four devices as well as parts of their specifications. They roll out on 6 October and all four will be running Windows Mobile 6.5. So, here are the names of the smartphones, at least according to Clove:
The Acer F1

will appear as the

Acer neoTouch

and feature 1GHz Qualcomm 8520 processor, huge 3.8-inch WVGA display, 5-megapixel camera, Wi-Fi, GSP and support for HSPA.
The Acer C1

has been renamed to the

Acer beTouch E100

and according to Clove, will be more affordable, just 12mm thin, feature 528 MHz Qualcomm 7225 CPU, 3.2-inch display, 2-megapixel camera, Wi-Fi, GPS and able to run on HSDPA networks.
The Acer L1

gets the name the

Acer

beTouch E200

and looks like a stylish slider equipped with 3-inch QVGA display, HSPD support, built-in Wi-Fi and GPS and has the same CPU as the beTouch E100, i.e. 528 MHz Qualcomm 7225
The Acer E1

baptised as the

Acer

beTouch E101

will allegedly be the most affordable of the four. According to the information posted by Clove, it will be 12mm thin and aimed at fans of social networks. It will come with 3.2-inch display, 2-megapixel camera, Wi-Fi and GPS, but without support for 3G. Its processor will be, yet again, 528 MHz Qualcomm 7225.
Clove has always been a reliable source of information, so we do not doubt its credibility. Still, remember this are loose details, so we cannot be entirely sure if the information is accurate or not, at least until Acer has made an official announcement. Anyway, it seems 6 October will prove to be a really interesting day, so stay tuned for updates.
source:
Clove