AT&T to give Cricket Wireless customers 18 months to get ready for the new Cricket
1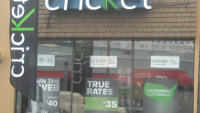 As part of a deal made with regulators to hasten the approval of its purchase of Leap Wireless, AT&T will be giving members of Leap's Cricket Wireless service 18 months to make the move to a new carrier. Once the clock starts, AT&T will be sending out texts to Cricket customers, telling them to start visiting AT&T locations to pick out a new phone. You see, AT&T plans on shuttering Cricket's network at the end of the 18 month countdown, even if the Cricket name lives on.
AT&T will give Cricket subscribers the opportunity to buy a new handset for little or no cost. Cricket's 4.5 million subscribers will be merged with AT&T's Aio customers to form the "new" Cricket Wireless, which will launch in the second quarter of this year. Last July,
AT&T announced that it was purchasing Cricket's parent Leap Wireless
for $1.2 billion in cash and the assumption of $2.8 billion in debt. The deal recently received the green light from regulators and
AT&T just closed on it last week
.
Jennifer Van Buskirk, president of the new Cricket, says that customers can look forward to lower and more aggressive pricing when the pre-paid carrier re-opens for business. "
We're going to get aggressive in this space with pricing
," Van Buskirk said. "
There's lots more to come as we get closer to launch
."
"For existing Cricket customers, there's nothing they need to do now. But we're going to be reaching out to them individually via text message to let them know when they can start to visit the stores to look at the new offering."
-Jennifer Van Buskirk, president, the new Cricket
source:
DenverPost
via
SlashGear