AT&T to cut price on BlackBerry Bold and Curve 8900 today?
This article contains unofficial information.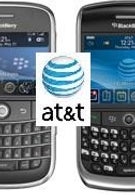 With the smartphone market getting more crowded by the day, it seems that AT&T is trying to get some attention for the BlackBerry Bold and the Curve 8900 by slashing prices. Engadget Mobile was told by a source that starting today, AT&T was lowering the price of the Bold on contract by $100 to $199.99. The Curve 8900 cost on contract will be taken from $199.99 to $149.99 for a $50 reduction. The lower prices are expected to be for a limited time only, but if the cuts do bring in some good business for the carrier in the face of the launch of the Palm Pre, the new prices might stick around longer than expected.
BlackBerry Bold 9000 Specifications
|
Review
BlackBerry Curve 8900 Specifications
|
Review
source:
EngadgetMobile