AT&T shared data plans could become reality soon, spy shots indicate
13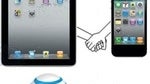 Apparently, the carrier has introduced some changes to Telegence, which is its internal system used for managing customer accounts. And further examination of the images indicates that the tweaks have added support for data sharing between devices. Of course, that doesn't mean that the functionality is now ready to be made available to the masses, yet it could suggest that AT&T is doing internal testing just to make sure that everything is working fine.
Unfortunately, there aren't any clues as to when monthly plans with shared data options will be made available. How much it will cost is anyone's guess as well. However, since
Verizon is expected to have shared data plans
of its own in the near future, we expect AT&T to launch its offerings in a timely manner.