AT&T to introduce shared mobile data plan soon
8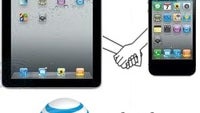 While speaking at the D9 conference yesterday, Ralph de la Vega, president and CEO of AT&T, revealed that the carrier is not that far away from
launching a shared mobile data plan
. Details may be scarce at this time with prices and data caps still anybody's guess, but the advantage of being able to share your data allowance between several devices is more than obvious.
Lets say that you own a tablet and a smartphone, for example. Signing up for a shared data plan will allow you to pay a single monthly data fee and to use your megabytes on whichever device you prefer. Sharing the same data allowance with your loved ones via a family plan sounds like another great way of saving on data expenses.
We have heard talks about
shared data plans
before, but it is great to hear that they are closer than ever to becoming a reality. However, will they really make data more affordable or will just trick people into paying more for wireless broadband? We will find out as soon as all details are announced.
source:
AllThingsD