AT&T is also going to start offering the BlackBerry Pearl 9100?
This article contains unofficial information.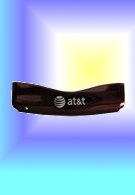 At this point, it feels like an eternity since AT&T launched the BlackBerry Pearl 8110 and we're sure that customers are aching for something new to reinvigorate some interest in the compact form factor of the Pearl series. However, there might be a slight chance that the number two wireless carrier might be well on its way in offering the BlackBerry Pearl 9100. The team over at PocketBerry uncovered some rather interesting news that sheds some light to this reality as they were able to find a parts suppliers selling a bottom plate for the handset with AT&T's noticeable branding on it. As we've seen in the past,k both accessory and parts makers are sometimes notorious in leaking stuff ahead of any official news – and this might follow a similar path. We're sure that customers are really looking to find something fresh to replace their aging BlackBerry Pearl 8110 units. The only thing they can do now is cross their fingers and wait for some unexpected, but exciting news for their ears.
RIM BlackBerry Pearl 9100 Specifications
source:
PocketBerry