AT&T contributed to the campaign of Democrats who support the AT&T/T-Mobile deal
54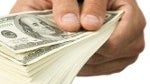 Out of 72 Democratic lawmakers who signed a letter to the FCC and the Justice Department
in favor of the AT&T acquisition of T-Mobile
, a large majority of them-66-have received
campaign contributions from AT&T
. The amount contributed added up to more than $500,000 and was donated through Political Action Committees associated with AT&T.
That might not be as bad as it looks, because after all, the company remains the
largest corporate contributor to Congress
over the last 20 years. During the last election cycle, AT&T passed out some money to 391 of the 435 members of the House and spread the largess to 78 of the 100 Senators in D.C.
The two top recipients of AT&T's cash were House Speaker John Boehner (Ohio-R), who received $77,300 and Senate Majority Leader Harry Reid (Nevada-D), who received $36,150. Ironically,
neither of the two
were among the 72 lawmakers who signed the letter. For a list of the lawmakers who signed the letter and received a contribution from an AT&T related PAC, click on the source link.
source:
PaidContent
via
TmoNews