AT&T CEO Stephenson meets with Trump to discuss the company's proposed purchase of Time
25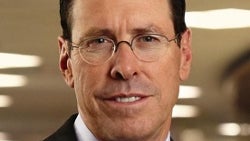 Back in October,
AT&T announced that it would buy Time for $85.4 billion
. But almost immediately, then presidential candidate Donald Trump took to his Twitter account to say that the deal results in "...too much concentration of power in the hands of too few." Trump went on to add that as president, he would block the deal. As you know, Trump shocked the world with his Electoral College victory over Hillary Clinton; that means AT&T's purchase of Time is in jeopardy of being blocked by U.S. regulatory agencies.
AT&T wants to make more content available to its subscribers by purchasing Time. Hoping to persuade the President-elect to reconsider the transaction, AT&T CEO Randall Stephenson is apparently meeting today with Trump. The AT&T executive was spotted inside Trump Towers and a spokesman for Trump confirmed that the two will meet today.
The Presodent-elect is still against the deal according to a source inside the transition team. Besides needing the Justice Department and the FCC to sign off on the transaction, Time stockholders also must approve the deal. A vote will take place on February 15th.
Among the properties that AT&T will own if it closes on the transaction are Warner Brothers Studio, HBO, TNT, TBS, CNN and 10% of streaming video company Hulu. Last year,
AT&T purchased television content provider DirecTV
for $48.5 billion.
source:
Reuters